Tooting Green Space and Growing Round Up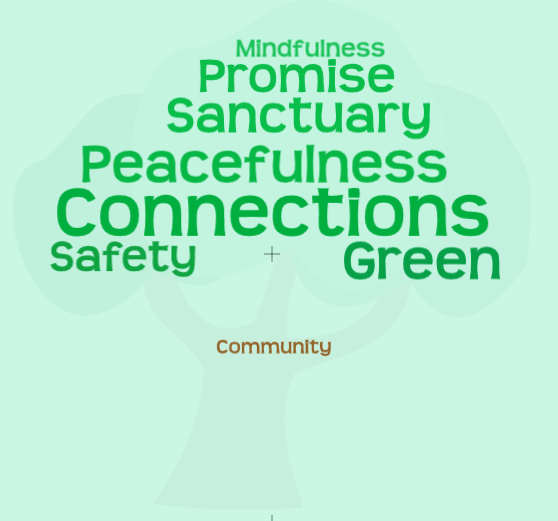 We may be on lockdown but we're still connecting with green space and growing – here's a quick round up of a recent Green Drinks discussion, activity at our community garden and a new seed swap project!
Green drinks on green spaces
On 15th April, our new online Green Drinks focused on the subject of access to green space. In the midst of lockdown our relationship with and access to green spaces feels particularly acute and we offered up the question – what is this current situation telling us about what we need from our green spaces?
More than a dozen of us, from all over the local neighbourhood, shared hugely varied personal experiences of green space. There was a really strong sense of how important time in green space was, and how precious it felt at this particular moment. Those with immediate access to outdoor space, no matter how small, felt hugely privileged – and all spoke about the importance they were placing on access to shared green space including the commons, local cemeteries and even our residential streets. We talked about the challenges of sharing space with such a diversity of users, dog walkers, amblers, runners, cyclists – and the new etiquettes being developed. Some shared frustrations and others spoke of a warmer friendlier atmosphere with people give way to one another, smiling and making eye contact. As Gary pointed out – we are physical distancing, not social distancing.
We then went on to focus on what we are learning in this time of crisis about the value of green space and nature. Many people shared a more intense experience of and interest in nature. 'Trees are really important – I've started to notice the different types rather than just looking at them as one thing.' 'Not just diversity of plants, diversity of the landscape is important.'
Some felt they were developing a stronger connection with their immediate locality – that they were finding new places to explore and appreciate which they hadn't noticed or appreciated before. Lisa Peake, a local fitness instructor, shared her local project supporting those with sedentary lifestyles to get out and walk together along with gentle workouts to build fitness. She imagined a bio-pyscho-social model where we can provide safe outdoor space for those who are mentally or physically vulnerable. If we support people to be active together and to fee feel socially closer whilst physically distancing.
A number of local green spaces were currently locked and inaccessible including Lambeth and Streatham cemeteries (although the latter has now re-opened), Fishponds Fields and of course our beautiful lido. Lucy Neal shared news of future developments at Fishponds Fields – an amazing 150m by 230m, 10 acre space in the middle of Tooting. A group called Forever Fishponds continues to meet online to generate ideas for the future of the field in response to the Council's consultation – anyone interested please do email lucy@lucyneal.co.uk
In our closing round we shared things we are enjoying out and about in Tooting's green spaces. 'The soundscape of birdsong reminds me of what it was like on holidays when I was kid.' 'I love keeping watch in the garden. Loving seeing the squirrel family.'
'Looking forward to the pumpkins coming up.' 'The next round of watering at Tooting Community Garden and sharing pictures.' 'the physical work of de-weeding a plot and wildflower seeds. Enjoying Mr and Mrs Thrush who come to have a wash in my birdbath.' 'I have a softspot for rats living on the Common. If a rat crosses my path it's going to be a lucky day – maybe one day I'll see three (a rat trick!).
Community Garden update
What is the role of a community garden in a health crisis? Which aspects contract and which expand and which decamp to another space all together?
Sadly there have been a few contractions to areas we cherish as a community garden – Sunday public gardening sessions have stopped as well as the school sessions and sessions with our partners including CARAS and J4Y Scouts too. In other ways though the garden has stepped up and accessibility has now increased to 'all daylight hours' for the families who live in the main house overlooking the garden and for the handful of Sunday regulars for whom the garden is a grounding part of our 'norm'. The garden is therefore being used more than ever but in a quiet and solitary way – one at a time. As ever, thanks goes to Naseem Aboobaker of Mushkil Aasaan who has given us free use of the garden space since 2011.
Photos, videos and sound clips are being wizzed around Tooting and other parts of the country via our Tooting Community Garden Facebook page and on our @tootingcommunitygarden Instagram page. One activity we have been promoting is to at home growing – windowsills, courtyards and gardens. The movement of a seed in a world at standstill is quite wonderful! We hope to be able to gather to plant our offsprings in the 'real' ground together in the not too distant future.
Knowledge is also continuing to be passed on and developed through videos of what's being done, done and could be done. I don't think this will ever replace experiential learning in the garden but it's certainly a learning space with a lot of potential. We are reviving our TTT Youtube channel to place these knowledge sharing videos – https://www.youtube.com/user/TransitionTooting – take a look!
I'll let the photos and word cloud from the garden finish this update…
What the garden means to our regular gardeners during this crisis?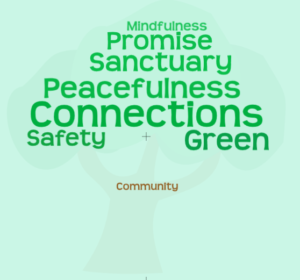 Peas in the community from the Seed Swap Event on 1 March 2020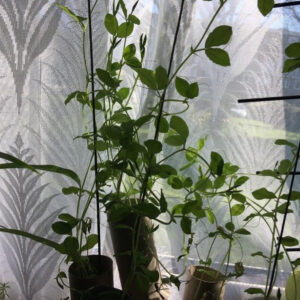 Peas planted in the Community Garden
More peas from the Seed Swap in March. Maybe some of these peas will be swapped next year…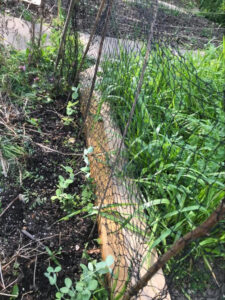 Seeds to seedlings – this growing step has decamped to many of our windowsills and outdoor spaces. This has the added bonus of them being next to a tap to water them (we have as much water as the sky gives us at the Community Garden!).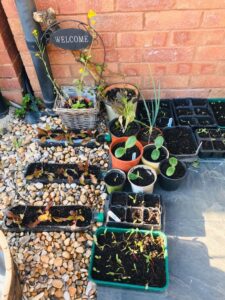 Onions and garlic in the Community Garden. The tepee is waiting to support cucamelons later in the summer.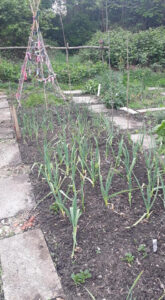 New Seed and Vegetable swap group
The seed and vegetable swap Whatsapp group was formed out discussions about food growing within the TTT-run Vegetanuary Facebook group, which aims to promote plant based meals through the sharing of vegetarian and vegan recipes. I thought it would be a great way to encourage local food growing through people having the opportunity to swap their excess seeds and vegetables, thereby avoiding food waste. It was launched in 28.03.20, during the lockdown that had been imposed by the government as a response to the Covid19 pandemic.
There was a hugely positive response to the idea of this group among the Covid19 support group that had been set up in my local area, and I quickly realised that given the restrictions on the movement of people within the community, people were taking comfort in staying at home and focusing on gardening, either in their gardens or on their window sills. The Whatsapp group currently has 23 participants and is continuing to grow. One of the most positive benefits that have arisen from it, is for the opportunity for local gardeners to connect and advise each other on growing. Members of the group have been willing to facilitate swaps for people who have been self isolating, and this has enabled those people to have access to seeds and vegetables they would otherwise not have. It is well established that gardening can bring positive benefits to people's mental health, and this is particularly important given the isolation that many people would be experiencing during lockdown.
Here are some quotes from users of the group –
'The group definitely has a strong positive vibe. Everyone in the group is so ready to come together and uphold the community during a difficult time'
'The seed swap group helped me to share some excess seedlings.and in return I was given some giant sunflower seeds. Everyone in my household picked a seed and now we're racing to see which will grow fastest and tallest! At such a strange time it has been lovely to feel connected to my local community and to have a practical way of reducing waste and sharing resources'
Garden
If you'd like to join the group send us an email and we'll put you in touch