A fantastic afternoon at Sew it, Show it!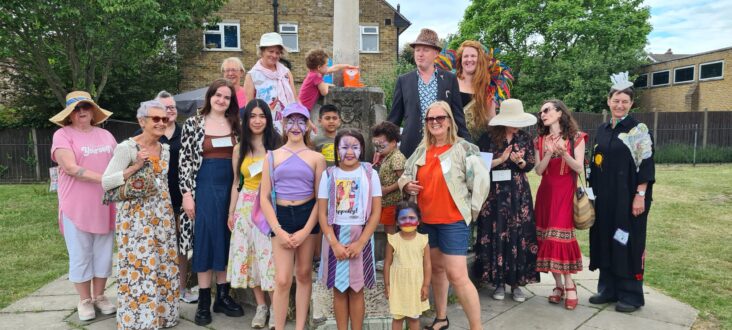 A fabulous time was had by all at the Sew It, Show Picnic and Parade.
The event was a celebration of slow fashion featuring sewing, stitching, crafting, fixing, mending and swapping – a picnic and a parade!
The event bought together indivduals and community groups from across Tooting with workshops from Work & Play Scrapstore, Fabric Nation brooch making with Gillian, Junkaroo Face Painting, Ubuntu The Lion, Creative Ladies knitting and handicraft group from Tooting Market, a Clothes Swap led by BYO (donations can be left at their stall in the market) and TTT's Sewing and Sanctuary group which offered a Boro Stitch Workshop plus stalls from My Old Girl & Me upcycled Bohemian, Indian and Irish influenced block prints and Caroline's Couture designer inspired clothes and accessories.
The highlight of the event was our Slow Fashion Parade – here are the prize winners (details below)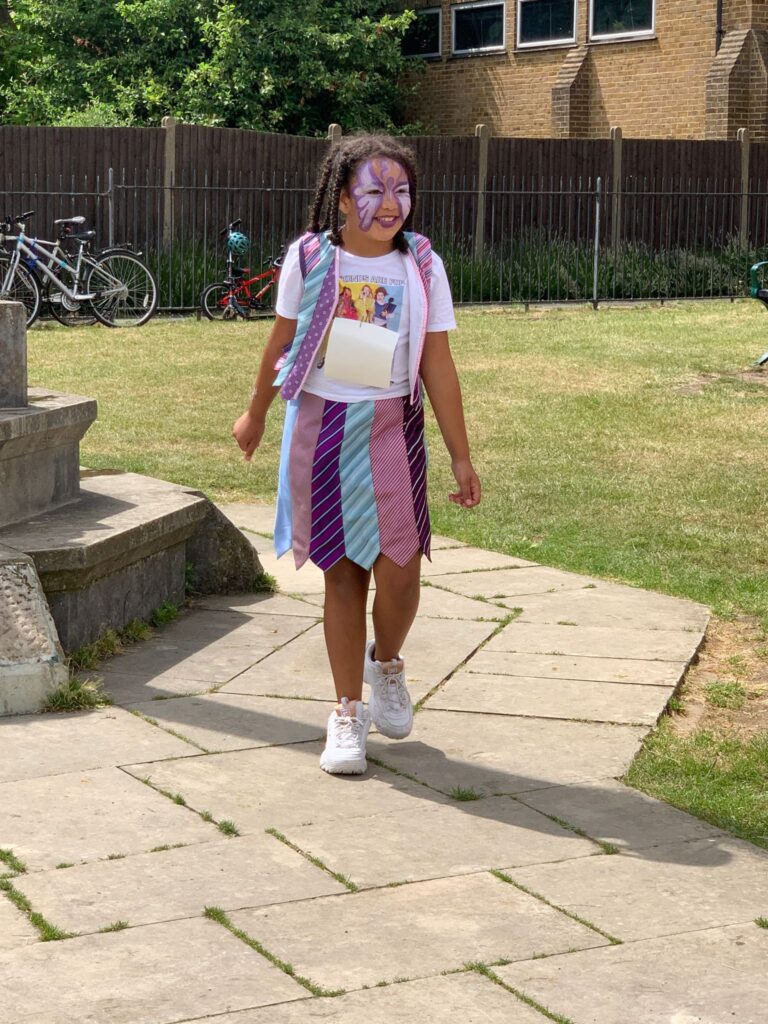 1st Prize: Annie wearing a dress made from her 2nd husband's first wife's bedsheet, twinned with a crocheted white top she had made and a handbag in the style of Dolce & Gabbana, including snakeskin, though no snakes were harmed!
2nd Prize: Aniyah wearing a dress made from old ties by her grandmother Winnie who accompanied her with a hat with a tie headband.
3rd Prize: Jeni Walker-Lawes in a dress made from recycled saris from My Old Girl & Me, upcycled brooch and feathers from Wandsworth Oasis.
4th Prize: Hilary Jennings in a mint condition 35 year old T-shirt, dungarees from Tooting Age UK, charity shop Birkenstocks and bead necklace.
5th Prize: Suzanne O'Donnell for her medical waste corset worn by 3 year old Mila and her own handmade dress in 50s chic style.
And our Highly Commended paraders (details below)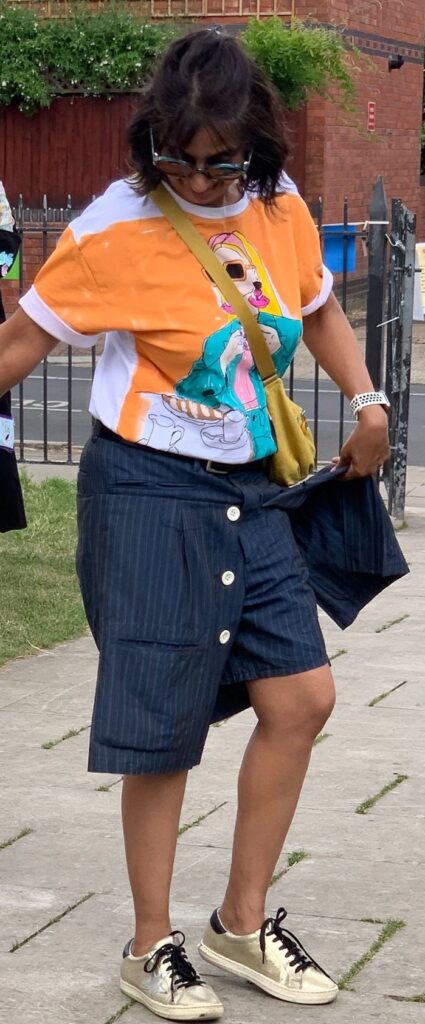 Tenley and Lucy who had stumbled on the event and got an outfit in the Clothes Swap!
Phoenix made her own dragon inspired Halloween skirt paired with a Fabric Nation brooch.
Malsara wore a "skort", a cross between shorts and a skirt made from a man's suit jacket and trousers.
Charlie Zeus wore charity shop trousers made into shorts and an upcycled friend's T-shirt while daughter Cleo wore a tie-dye hat and bag she had made, charity shop shorts and her mother's reused trainers.
Sue from Transition Town Brixton wore a stylish jacket made at the Woodfield Pavilion from leftover ends of upholstery material.
Lucille wore a dress made from repurposed Film & TV stock trimmed with recycled African vintage textiles with Frida Kahlo and Venezuelan influences.
Alexandra wore a floral Zara dress and Skechers shoes from a charity shop
Judge Lucy from Eden Project Outreach was dressed banner cloak made by Woodfield Craftivists while compere David wore his pimped up suit jacket with tiger motif, repaired shorts and charity find shirt.
Great Prizes included 3 sessions with Taking Care of Fitness Personal Trainer, £50 behind the bar at Graveney Gin, a Frida Kahlo cushion, Sue Ure ceramics and Eden Project goodies.
---
The event was part of our Share & Repair project, supported by Transition Together with thanks to the National Lottery Community Fund and The Eden Project Big Lunch.   It was organised by Meet & Make Spaces, Tooting., who run creative workshops and meet-ups in different spaces for the community of Tooting and beyond.