ReSparkle! 2020: our online seasonal creative making workshop is on Sunday Dec 13th, 3-5pm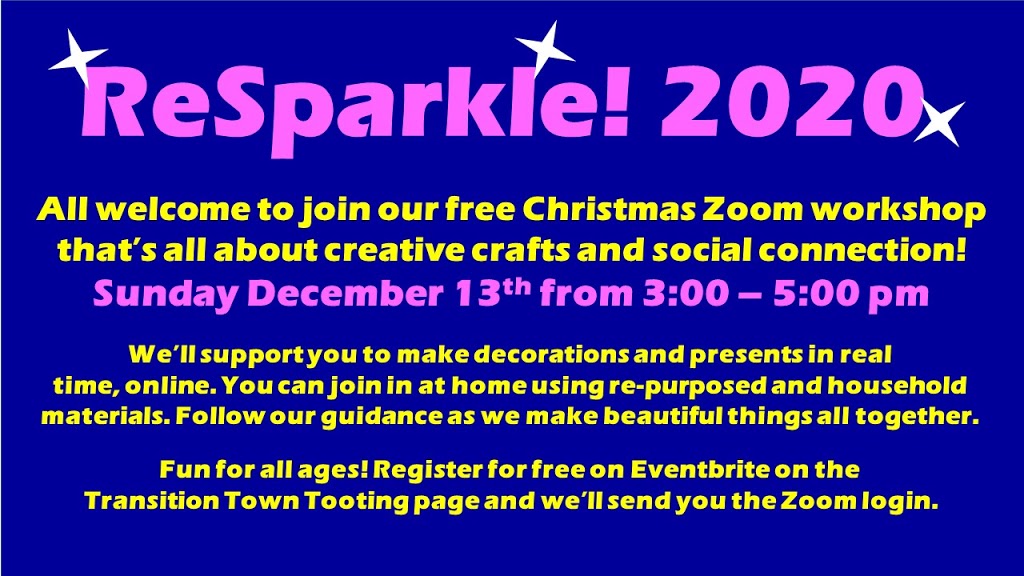 ReSparkle! 2020 is a fun crafts-making online workshop where you are guided to work at home using household materials to create beautiful things. It's on Zoom on Sunday December 13th from 3-5pm.
The workshop is free: please register for a free ticket on Eventbrite at https://tinyurl.com/y27vzkvb Then we'll be able to email you the Zoom access link before the event.
What will we do? We'll offer you a series of practical crafts activities: 20 minutes for each. Our artist leaders will demonstrate and guide you, and in parallel others will be working on the same activity. Some of the activities will be making decorations, some could be presents.
We've offered lots of ReSparkle workshops since 2012. Click here for some past TTT blog posts & photos of what's been created when we were face-to-face!
ReSparkle!2020 will be the same but different. We believe that online workshops can be welcoming, sociable and beneficial for wellbeing and connection.
On Zoom we're all invited into each others' homes – so there are many layers of welcome and community.