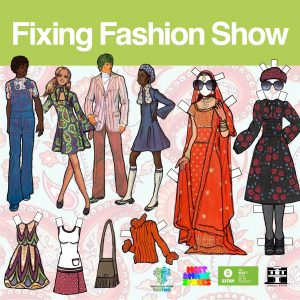 We had a fantastic time at Tooting's very own Fashion Show and Parade – Fixing Fashion – celebrating fashion that is pre-loved, upcycled, mended or handed down and kinder to our planet.
Read all about it and check out the images below (thanks to photographer Bryony @findmeintooting!)
It was a fantastic celebration of Tooting, the market and a signal to the wider community that it's more than acceptable to buy your clothes from a charity shop, to repair rather than throw away and to celebrate the brilliant community of Tooting. It was all that we wished for and more.
We collaborated with the local Oxfam Shop who provided the majority of the outfits worn down the catwalk. The models were mostly traders from the market, locals into the market and supporters of the Share & Repair project. For many it was a personal journey to take that walk and the look of triumph after they had will be remembered for a long time.
Local bar and distillery Graveney Gin provided us with a brilliant up and coming DJ and Becky really set the right pace and mood. Transition Tooting's own David Thorne acted as compere, sharing details of the models and outfits.
We were also joined by pupils from the local primary school Franciscan Primary School to display and discuss all of the recycling projects they were involved in. Their earnestness and excitement was enough to melt even the coldest heart.
We'd also like to thank local secondary school Lambeth Academy whose students assisted in the styling. One is hoping to become a fashion journalist and the majority of her personal statement for university applications was about her experiences on the day.
What really stood out was that the crowd watching represented the community of Tooting, we clearly spoke directly and there have been many cries for more of that please!
How about another show next year???
The evening also saw the launch of our photography exhibition – celebrating the individuals and small businesses who fix and mend in Tooting
All part of our Transition Town Tooting Share & Repair project.