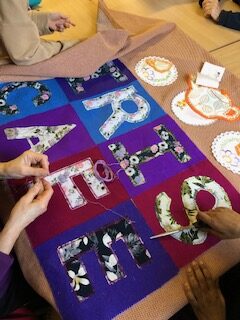 The group is really flourishing with about a dozen of us meeting above Oxfam every Friday morning.

Alongside variously themed sessions, for a few months we have been working on a commission from
Wandsworth Carers to make a banner for their new Iris Cafe, a group for people with dementia and their
carers which meets monthly in the community hall of St Luke's church, Ramsden Road. The completed
banner was delivered to the group on 21st January and they were delighted with it. They particularly wanted the banner to be made from re-used materials and our group was well placed to deliver this. The strong backing fabric was sourced from the Work and Play Scrapstore and all other materials used were rescued from the recycling bags at Oxfam. Jeni visited the Iris Cafe in October to find out about the interests and memories of the attendees and she fed these back into the sewing group. This inspired the appliqué motifs made by individual members of our group, for example the tomatoes which one man used to grow in Jamaica, an artist's palette and brush, for a man who was an artist, a cricket bat and ball and to represent music, vinyl records made from crochet! Nicola then visited the Iris Cafe in November to run an activity session making pom-poms and felt flowers. This was very positive as it encouraged the attendees to talk about their hobbies and interests. These items were brought back to Oxfam and added to the banner. Various skills were learnt by the group during the making of the banner such as using machine embroidery and how to appliqué. It was a truly collaborative project.

Late last year we held a celebration 'bring and share' lunch. During the session we used the 'five ways
to well-being' principles to review our first 6 months as a group (Connect, Keep Learning, Take Notice, Be
Active, Give). We made gifts and decorations from our lucky dip of pre-prepared craft kits. Members of the group brought in things they had sewn and we put lots of our work on display around the room. We were joined by Nelly Buscardini from Oxfam and Mary Hargreaves from Wandsworth Welcomes Refugees, and have since heard that our group has helped Oxfam become Wandsworth's first 'Shop of Sanctuary'.

The group also discussed what they would like to do in future sessions. Suggestions included learning about pattern cutting and clothes making. We also plan to do some visible repair sessions and upcycling of clothes. Other ideas are embellishing prints with embroidery and making cushions and tote bags.

The group is very mixed with a small number from our connection with CARAS, some of whom
have introduced friends of theirs. Some women have been referred via Wandsworth Welcomes Refugees and others through connection with an art group held at Ascension church, Balham. Other members of the group are local women, many of whom got to know us through the Tooting Tapestry project. It is wonderful to see women learning together, sharing skills and helping one another. Women find companionship, a calm environment, creativity and a sense of achievement.