Tooting Share & Repair Project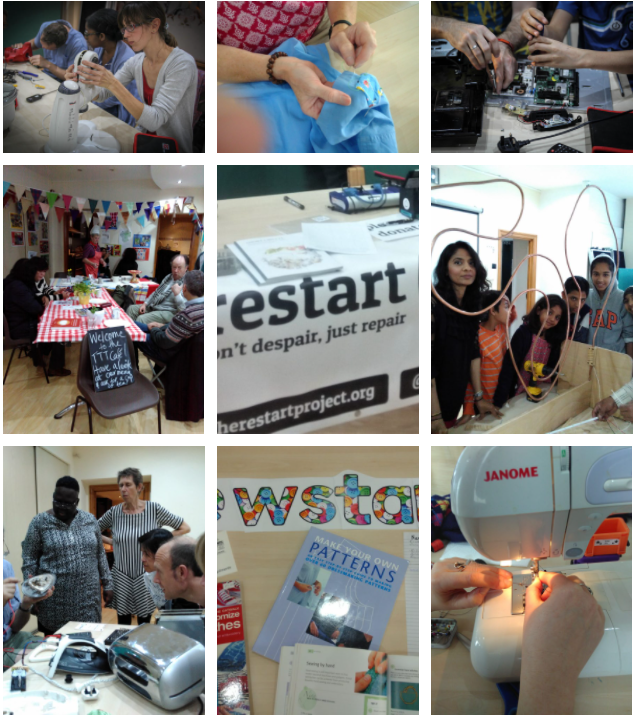 Celebrating and sharing repairing, fixing and making in our local community!
Read all about our Share & Repair Activities below:
Broken electrical or electronic items you don't want to throw away or sewing and mending that needs doing? We hold regular Fixing and Mending sessions in Tooting and Balham – dates below.
Looking for local repair, fixing and mending businesse? Check out our maps – and let us know if you have recommendations we should add!
Read all about our RepairFest in 2023 and our first Repair Week in 2022.
Do you know of any unused local spaces? Our long-term ambition is to find a permanent a self-sufficient space for Tooting's Share & Repair community!
Fixing and Mending Parties
DATES FOR 2023 (for full details of upcoming events see our Facebook page)
Sat 20 May 2023 – Balham (St Mary's Church, Balham High Rd, London SW12 9BS)
Sat 22 July 2023 – Tooting (United Reform Church, Rookstone Rd, London SW17 9NQ)
Sat 16 Sept 2023 – Balham (St Mary's Church, Balham High Rd, London SW12 9BS)
Sat 11 Nov 2023 – Tooting (United Reform Church, Rookstone Rd, London SW17 9NQ)
Tooting and Balham repair Maps
The map shows local repair businesses in purple and venues for the 2021 Tooting Repairfest in yellow. Click on the location pointers for more info. If you have a business you would like to add to the map email us details at transitiontowntooting@gmail.com
Below is a Sustainability map created by Neighbourhood Network SW12 & SW17 which lists all the places you can reuse, refill, recycle and repair things in the local area.
---
Read about our 2022 RepairFest!
Fixing Fashion – A show with a difference – at Tooting Market – more HERE
Broken Assembly with Furzedown Primary School – more HERE
Restart Party at Mushkil Aasaan – more HERE
Photography Exhibition at Tooting Market – more HERE
Sewing Box workshop with CARAS Women's Group – more HERE
Collaborative Protest Coat – Repair for our Future and Fix Your Knitwear – darning workshop at the Woodfield Pavilion's Big Green Weekend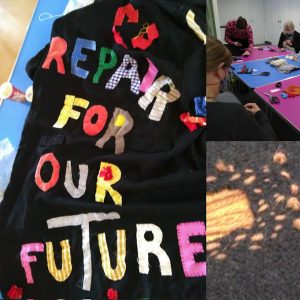 As Gemma from Meet & Make Spaces who co-ordinated many of the events reflected 'Overall the festival was a triumph, We found that the idea of fixing, repair and mending felt 'normalised' to many people and I think was why it was such an overriding success, it felt like it was a 'thing' that always happened.'
We look forward to making plans for 2022 – if you'd like to get involved do let us know!
Read about our first Repair week in July 2021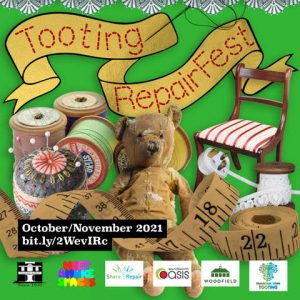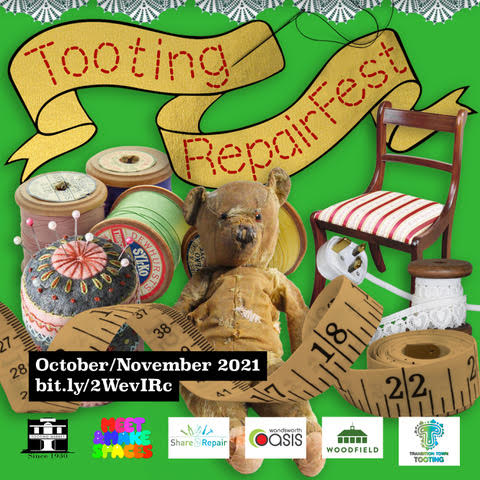 Tooting RepairFest was coordinated by Jeni and Gemma at Meet & Make Spaces.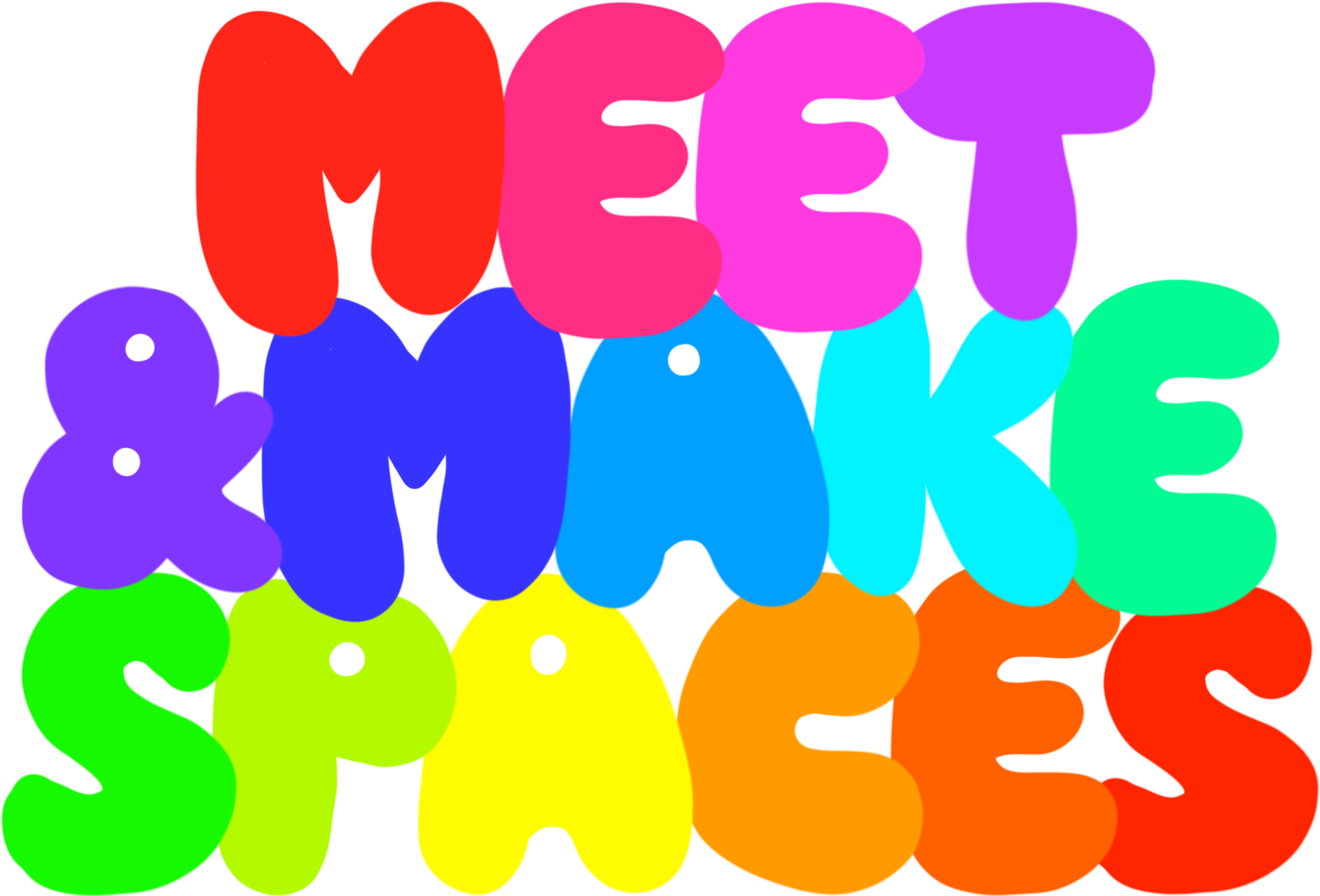 ---
---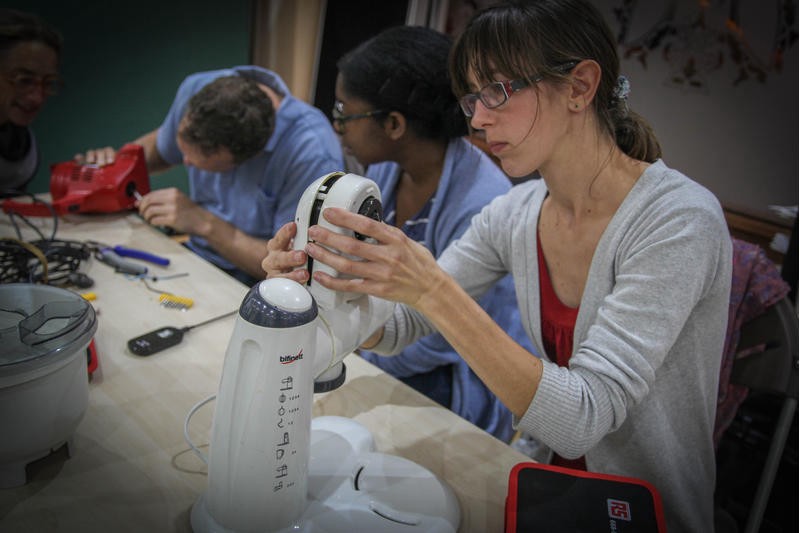 ---
Help us by
Sharing details with us of any local businesses that do repair, fixing, mending or alterations – this could include working with electrical or electronic goods, furniture, clothes, leather goods, upholstery – and more…
Letting us know if you have fixing or mending skills which you'd be happy to share with the community through this group – or you know someone who does….
Telling us if you have something to offer the Share & Repair community – space, materials, tools or other skills like project planning, communications, social media, photography – anything which might help us build our work.
Contact and Follow
You can join the Share & Repair Facebook Group for project-specific updates
---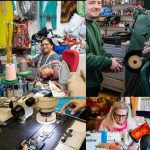 from 24th November at Tooting Market A highlight of our Repair Fest 2021 is a photography exhibition offering a window into a selection of local businesses in the community where you can get items, fixed, stitched, welded, and repaired. By changing the habit of throwing things out, and by choosing to repair we save money and ...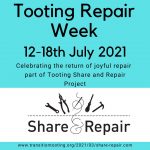 Read all about Tooting's first ever Repair Week!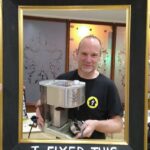 We've been running fixing and mending workshops in Tooting for nearly four years now with the help of the Restart Project and their team of volunteer fixers. Our amazing volunteers have fixed everyday items like irons, hairdryers, kettles and toasters and made repairs to trousers, dresses, rucksacks and bags. We've even tackled more unusual challenges ...
Our next Restart Party in Tooting is at Mushkil Aasaan this coming Saturday 8th December, 13.30-16.30. At this event, as ever, you can bring in broken electronics and see if our team of volunteer fixers can give them a new lease of life or at least identify the problem. The ethos behind our Restart parties ...
Do you have broken electrical or electronic items that you don't want to throw away? Good at fixing or mending stuff or would like to learn how? Come to a Restart Party! Tuesday 9th August from 7 – 9pm Restart Parties are the antidote to the thow-away society, why chuck out your electrical and electronic stuff when they could ...