Our first 'live' seed swap event!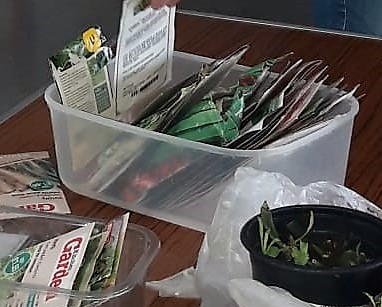 On Saturday 5th February the Seed and Vegetable swap group had it's first live seed swap event.
This event was to enable local gardeners to meet, have a chat with each other, bring seeds to share with others and pick up seeds they would like to grow. They were also able to have a go at making newspaper seed pots. Most people had a go at this, and were able to take these home filled with the seeds of bee friendly wildflowers.
The event was well attended and people enjoyed the opportunity to meet other gardeners. People enjoyed having a cup of tea and biscuit and chatting to other gardeners. Some of the comments that participants made of the day were:
'an enjoyable afternoon, with a bunch of friendly people happy to share useful tips and knowledge'
'really enjoyed meeting people yesterday at the seed swap'
'my best part was meeting so many warm people who are also very knowledgeable and experienced gardeners whom we can learn a lot from'
It was great to see people mingling so easily and having discussions about gardening. People were enthusiastic about having further events, so we may well be holding a summer or harvest party. Watch this space!
To join, please contact us transitiontowntooting@gmail.com with your phone number so that you can be added to the WhatsApp group.